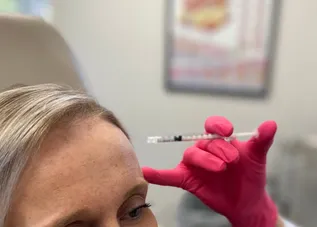 Looking to reduce wrinkles and achieve a more youthful appearance? Our clinic offers neurotoxin treatments that can help minimize the appearance of wrinkles caused by repetitive movement and restore smooth, youthful skin.
Understand How Neurotoxins Help
Neurotoxins work by limiting the ability to make certain facial expressions, smoothing out the wrinkles and lines caused by repetitive use. This proactive approach not only diminishes existing creases but also prevents the formation of new ones.
Botox, Jeuveau, Xeomin, and Dysport are injectable options we provide at Midtown Dermatology. These injections have been shown to be effective for crow's feet, forehead "worry" lines around the mouth, facial asymmetry and the vertical lines between your eyebrows. They have also been used to treat excessive sweating. Outside of dermatological practices, they have also been used to effectively treat cases of chronic migraines in some patients.
A great part of receiving these injections is their long-lasting effects. The effects of neurotoxin injections generally last for up to three months. Throughout this time, your muscles are experiencing a degree of retraining. Consistent treatments can produce longer-lasting results. The most notable lasting results occur after receiving consistent treatments for two years.
Receiving Neurotoxin Injections at Midtown Dermatology
One aspect that makes these treatments popular is the lack of downtime. Immediately after the procedure, it is normal to have some slight bruising or swelling, but these tend to fade quickly. Given the quick treatment time and lack of downtime, it is a great "lunch-break treatment" you can receive in the middle of your day. Call Midtown Dermatology today to schedule your consultation. Our team is looking forward to helping you look your best.